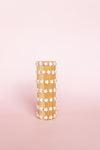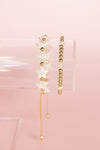 All Star Adjustable Bracelet
Adjustable pearl star bracelet with gold beads! Fits wrist sizes XS-XL.
Remove when visiting pools, the beach and when taking a shower. Liquid cosmetics should be avoided.
Skip wearing if you plan on exercising or sweating more than usual. We are not responsible for replacing discolored items after use.